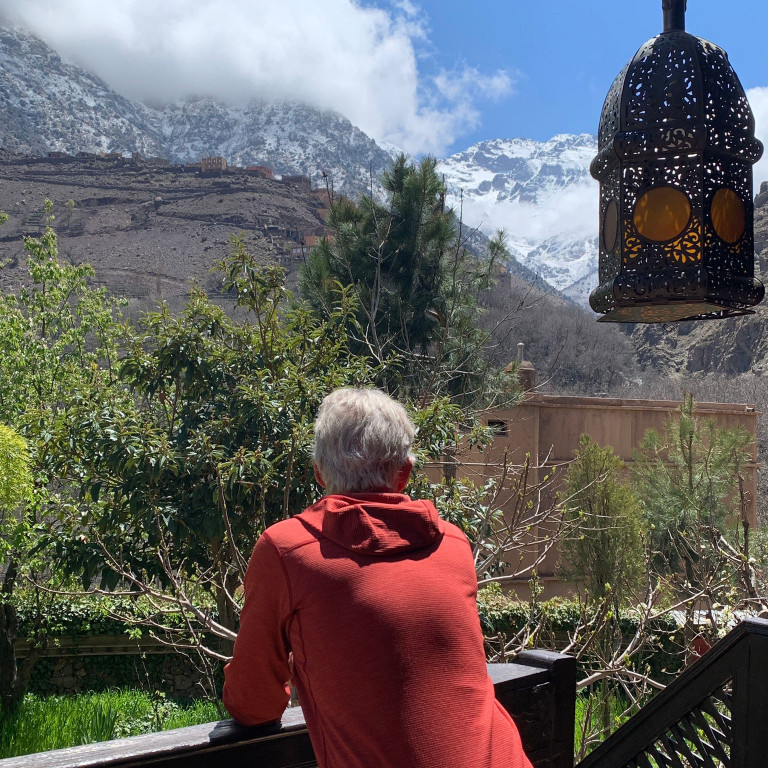 Our very own Head of Operations, Cathy is currently on a reccy of one of our incredible Atlas Mountain Hiking trips in Morocco. We have been lucky enough to receive regular updates, photos and even this wonderful blog entry.
Enjoy reading and look out for more wonderful updates!
On a clear day you can see the High Atlas Mountains from the Medina in Marrakesh; a foretaste of the adventures that await. The 90 minutes in the car speeding to the foothills gives the first few glimpses of Moroccan life away from the central hub of this famously 'buzzing' city: Condo style apartments surround watered and manicured golf courses, the out of town villas for wealthy European and Moroccan families alike.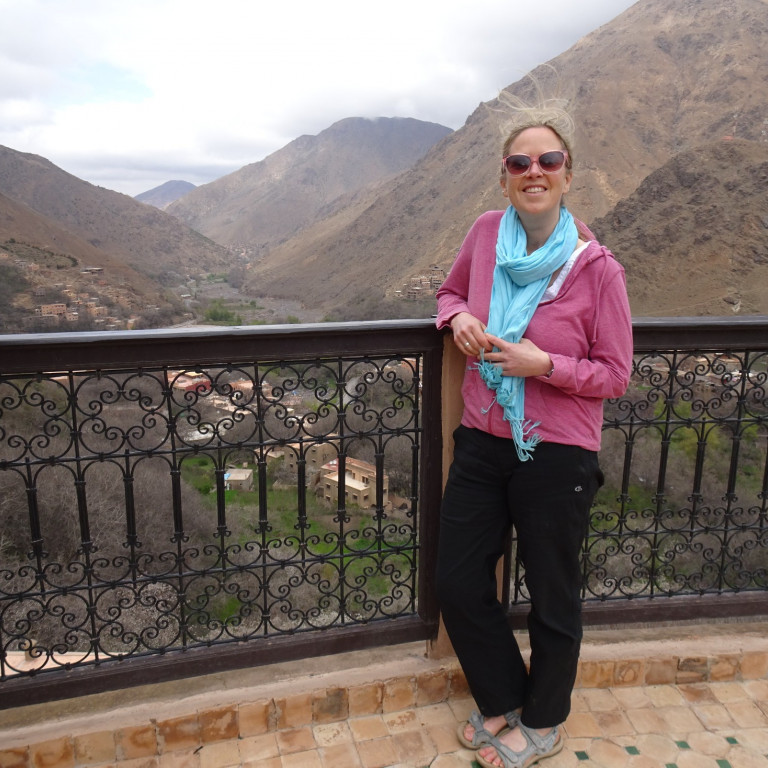 The wide, smoothly tarmacked road leads to the town of Asni where we branch off towards the Imlil valley with our excitement building as the tarmac deteriorates. As we head a little more off the beaten track, our driver Rashid, points out the three houses built in Asni by 'Education For All', our charity partner for this trip.
Rashid, was born in Imlil himself and went to school there but left early as, at the time, the government-supplied boarding houses were underfunded and he was frequently hungry. Not a great foundation on which to build an education. He was lucky though in that, as a boy, his education was prioritised. He explained that girls rarely continued into secondary education at the time. 'Education for all' has turned that around, offering safe and funded boarding houses for village girls to continue their studies.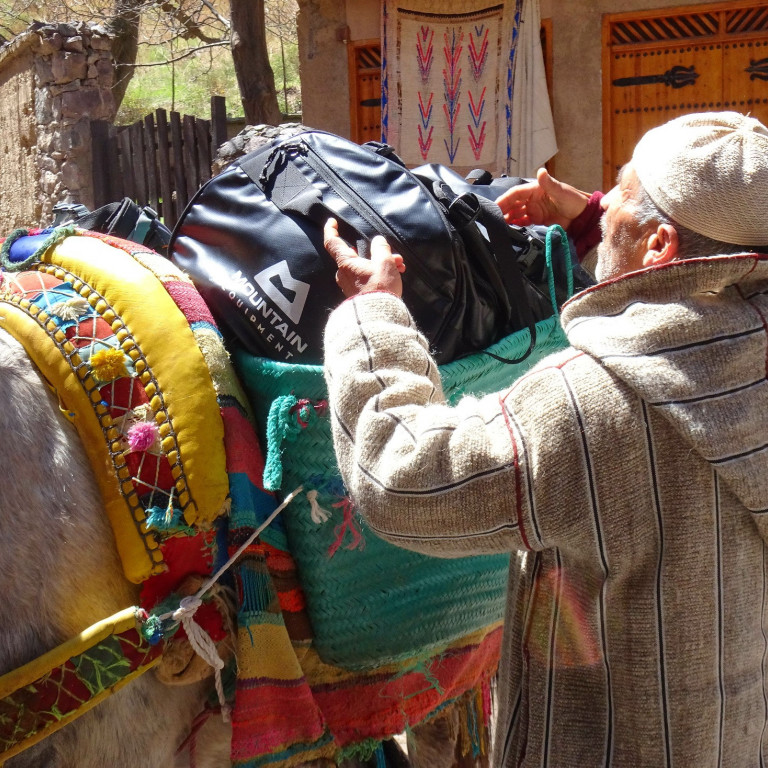 The road climbs steadily, hairpin after hairpin, with the snowcapped peaks of the high mountains providing an impossibly beautiful backdrop. The cherry trees, in full bloom alongside the road, hint at the coming glory of spring when the snow melts. The streams run full, flanked by the cherry, then apricot and lastly the walnut tree blossoms.
Passing the front of Richard Branson's exclusive hotel, The Kasbah Tamadot, some 10 km before we reach our mountain retreat, I admit to feeling quite smug; I know from the photos that our destination, the Kasbah du Toubkal, is perched in perhaps one of the most stunning locations possible, at 1800m above sea level and with up close and direct views of Morocco's highest peak.
On arrival in lmlil mountain town our luggage is loaded onto a mule and we walk for 15 minutes up to the kasbah, visible around 150m above us. A muleteer will pay €1000 for a fit mule between five and ten years old - a significant investment by any standards, in addition to the hundred Moroccan dirham a day it costs to feed. The kasbah can only be reached on foot or by mule, another example of the support that the kasbah can offer, in the form of regular employment for families in the local town.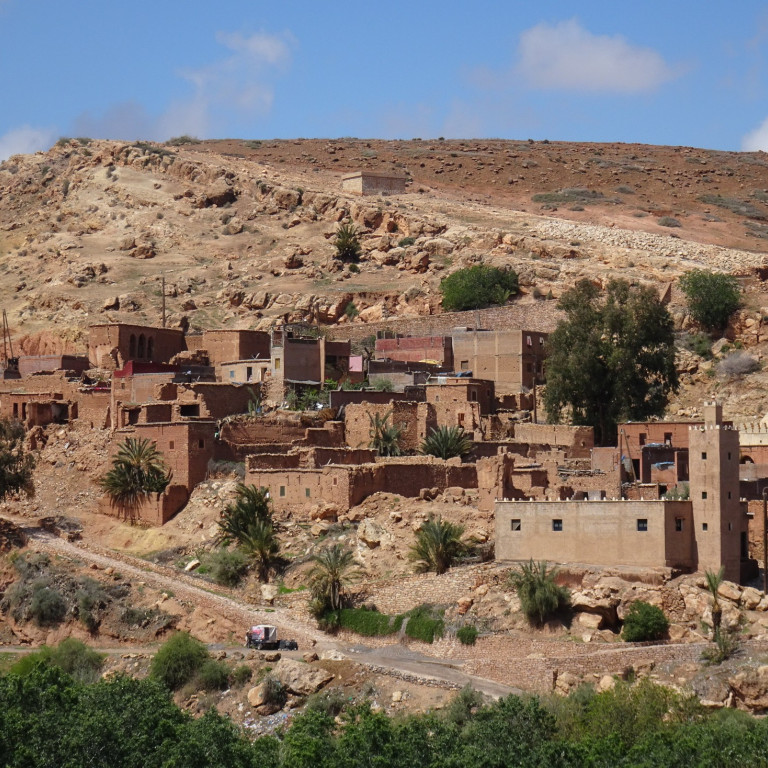 We are greeted by a warm welcome and a delicious glass of Moroccan tea. We accept an invitation for a gentle guided introductory walk in the valley. Our guide Abdil, who was born, and still lives in a neighbouring village, tells us that 60% of the Imlil families work in tourism. The last two years, during the pandemic, have been extraordinarily tough and it is only due to the community pulling together that most have been able to continue to survive with the essentials of life only. Thankfully, the kasbah is starting to see a slow stream of travellers again… Both Moroccan day-trippers from Marrakesh, who visit to lunch and bask in the sunshine, drinking in the astounding views from the rooftop terrace, and trackers, who come to explore the Imlil and Azzaden valleys and to summit Mount Toubkal.
Abdil first climbed the 4,167m peak aged 15, with some friends, and since then, in his work as a guide at the kasbah, has climbed it perhaps another 200 or so times. Knowing that the kasbah has attracted some well-known visitors, I asked if he had guided anyone famous. Yes, he admitted, Daniel Craig was filming 'Spectre' near Ouarzazate and came to the kasbah for a few days trekking. A photo of 007 now hangs on the kasbah walls.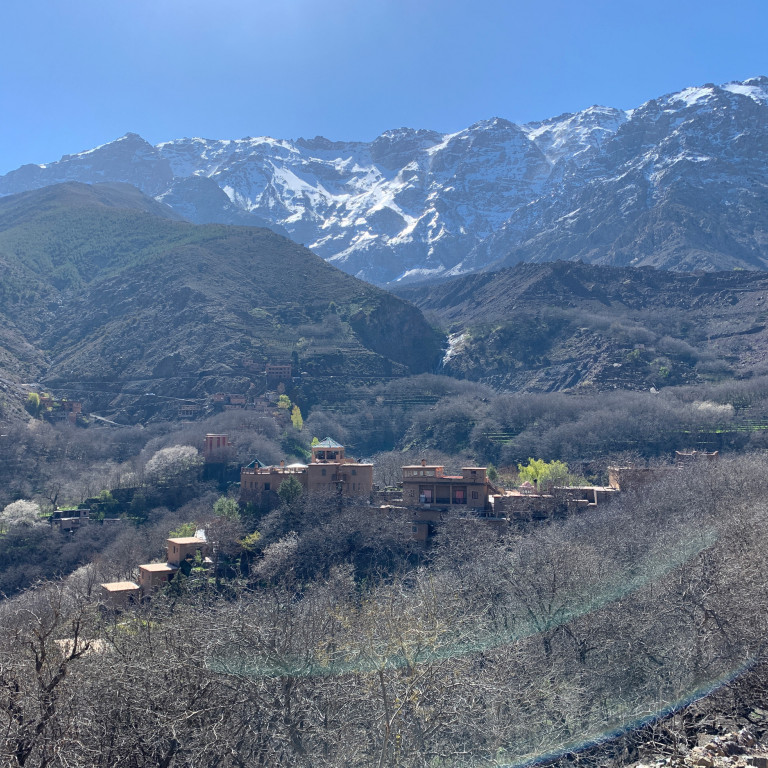 Lunch is served on the terrace… A selection of traditional Moroccan dishes; fresh Moroccan salad followed by roasted vegetable and chicken tagine with couscous. Guests are invited to make use of a supply of wide brimmed straw sun hats to protect from the strength of the sun… until the clouds descend and the temperature drops around 15°, proving the saying that Morocco is a cold country with a hot sun.
No matter, as the refuge is as ideally set up for cold weather as for hot, with each room offering use of a traditional djellaba and fireplaces to be found in the communal rooms; library dining and living room. With over 15 year's experience in welcoming guests to the mountain retreat, there is little that the kasbah are not prepared for.
Our introduction to the high Atlas Mountains could not have been better and this evening we enjoyed the tranquility with the knowledge that tomorrow we will be heading over to the Azzaden Valley to stay in their trekking lodge for two nights, exploring a very different area with traditional Berber villages and equally striking views….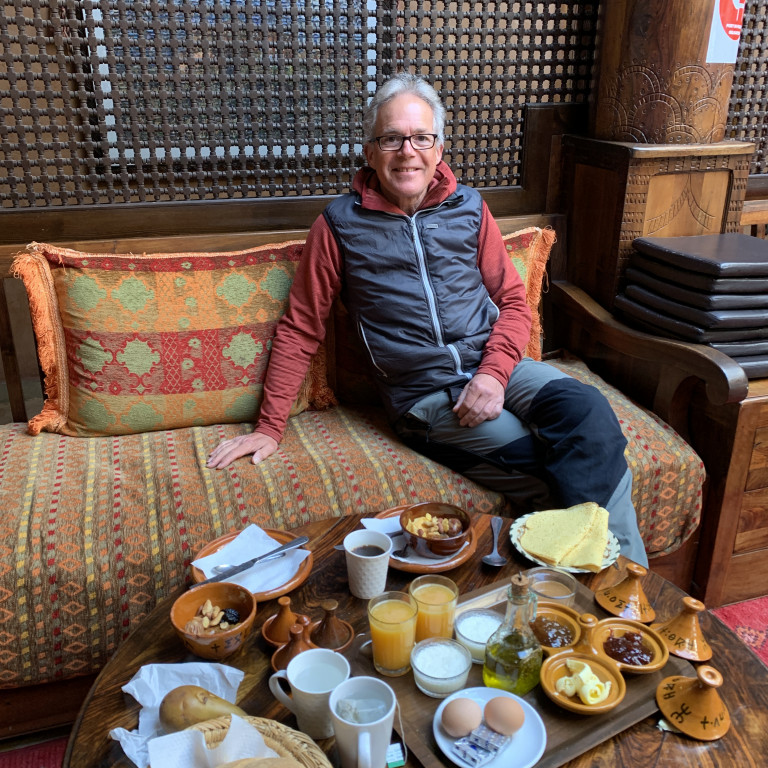 We have lucked out with the weather and we wake to clear blue skies.
Our hearty breakfast is as colourful as the kasbah's tapestries & cushions; boiled eggs, creamy pancakes, crusty bread rolls, cereals and a selection of fresh and dried fruits. A glass of freshly squeezed orange juice tops it off, and the dates are the best I have ever had. 
We pack a soft bag each with enough for two nights and two days walking and leave the rest of our things in a bag at the Kasbah. Soft luggage is essential as the bags will be transported by mule to the trekking lodge in the Azzaden Valley.
Joyously, we have to only carry the essentials with us; camera, water, sunscreen and layers suitable for the weather. I choose to wear walking trousers in spite of the sun; the Azzaden valley is more traditional than Imlil, so appropriate dress is an important consideration. I take a scarf to wear over my head when we walk through the villages and a T-shirt with short sleeves rather than a vest top.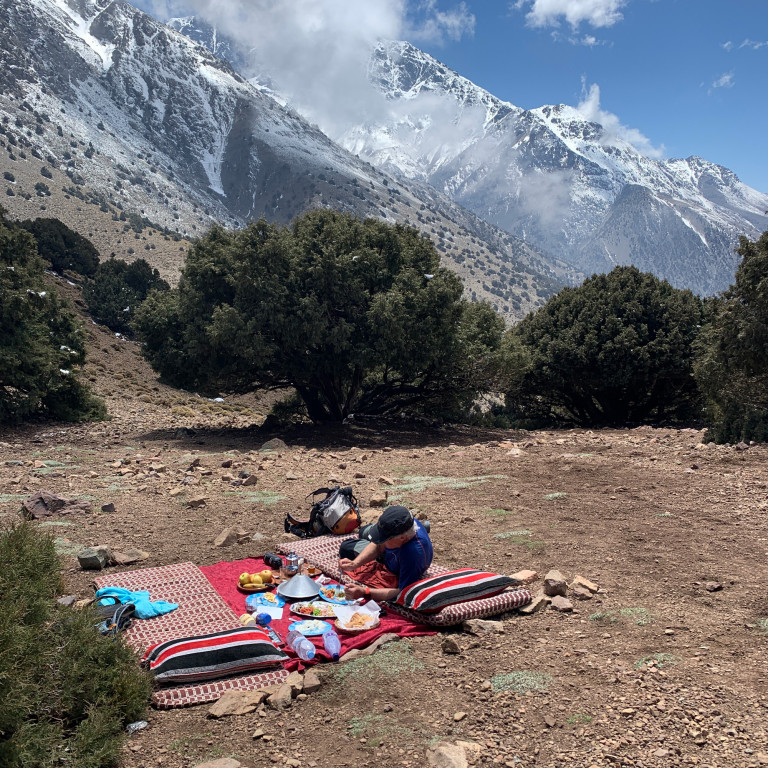 We leave the kasbah and unsurprisingly, start heading uphill! 
Our goal is Tizi H'Mzik pass at 2489m, visible from the start of our walk, where we know a picnic lunch will await us.
Our mule  is not just weighed down with bags… It turns out he is also carrying soft cushions, water and the ingredients for a delicious fresh lunch of salad, cream cheese, fresh bread and a hot tagine of gently spiced Moroccan meatballs. Fresh and sparkling water and mint tea are served with panoramic views of the peaks. 
But I'm jumping ahead of myself...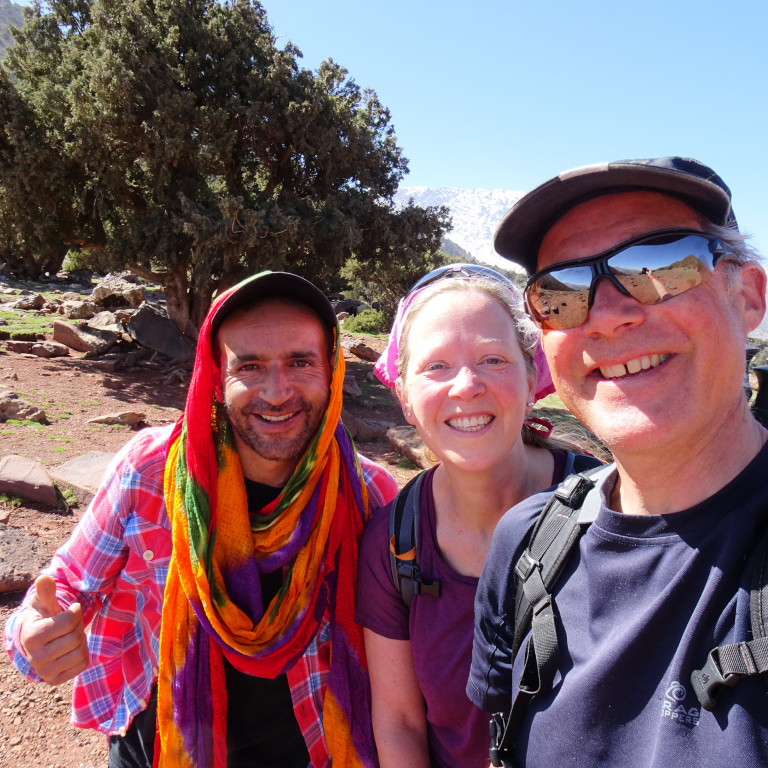 Our guide for the next 3 days is Abdou, who has worked extensively in the high Atlas Mountains as well as the Rift Mountains and Sahara desert.
Around 40, I'm guessing, he was born in the Imlil valley and still lives there with his parents, as is the custom, his wife and 3 of his 4 children (his eldest daughter is married and lives in Casablanca).
As well being passionate about the area, he is so knowledgeable; about the geography, the culture and traditions as well as the flora and fauna around us.
His English is excellent, though we also have French as a back up, which he is very comfortable with, and which we speak after both living in France in another life!
Abdou sets the perfect pace as Graham and I head off the road and on to a stony path winding around the scattered juniper trees.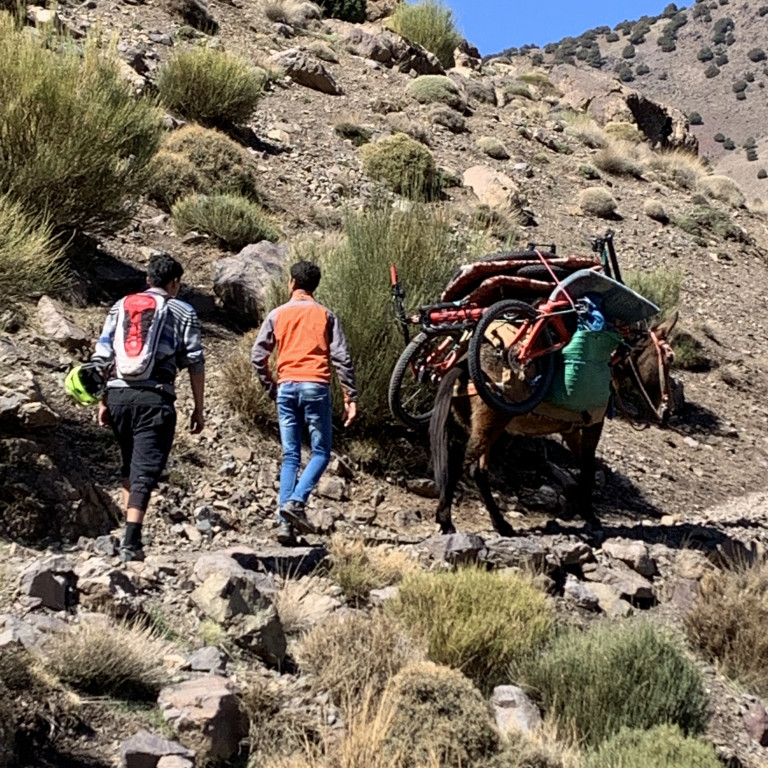 We see relatively few others;
A family with teenage children, a couple of guided walkers and a couple of Europeans, dressed for mountain biking and accompanied by a Moroccan guide, a muleteer and mule piled high with what must be the appropriate number of wheels and frames to build 3 bikes at the col.
No doubt an epic descent awaits them, though I admit I'm happy to be exploring 'a pied'!
It's pretty much uphill all the way to the col but at a gentle pace with plenty of pauses, it is just between 2 & 3 hours.
On reaching the pass there is an optional small peak to bag (1km and around 165m accent) or you can sit comfortably with your mint tea and drink in the views.
(Graham chose the climb, I chose the mint tea & view!)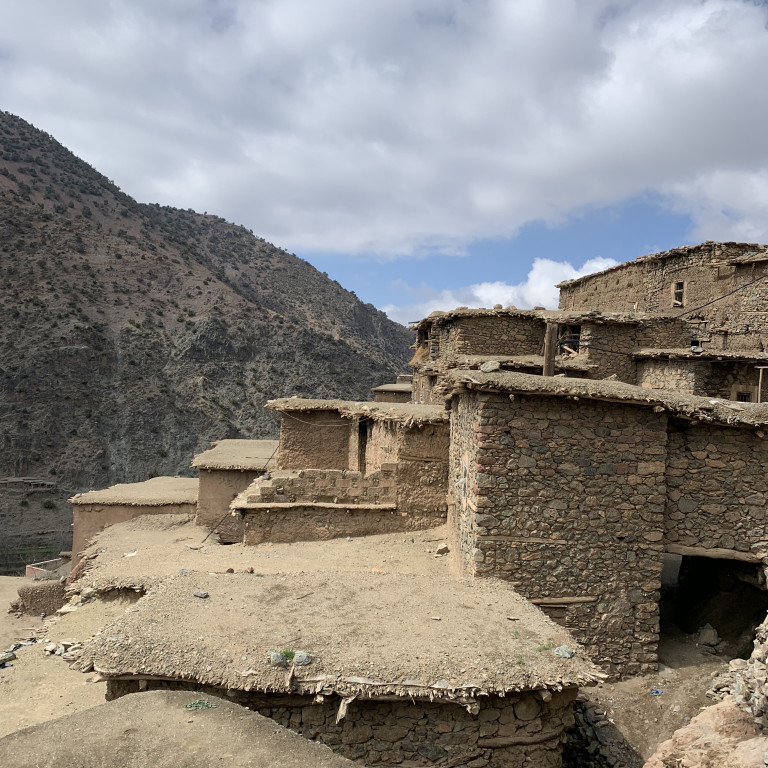 Refreshed after lunch, we start down into the Azzaden valley and before long before the first Berber village comes into view.
Abdoul reports that nearly 9000 people live in the valley though the villages are so dispersed, you would never believe it.
Settlements of one form or another have occupied key places in the valley for centuries and the neatly tilled, verdant terraces hint at the heritage of each village; the moss between the dry stone walls and the breadth of the gnarled walnut trees indicting the oldest areas.
Circling around the first village, we pass directly through the second one, Tizi Oussem, on narrow ancient stone paths that weave around the traditionally constructed mud and wood houses whose old wooden doors are ornate with hefty Berber locks.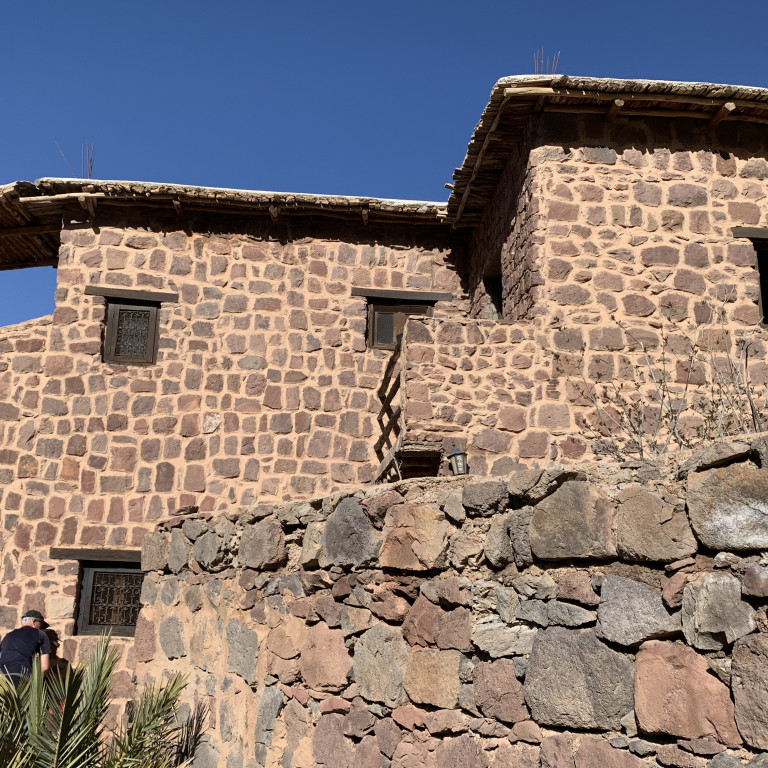 We hit a surprisingly modern, and totally deserted stretch of road and wind down the valley towards the trekking lodge. A lone car passes (some incongruous looking Fiat something or other!) and as it turns out, it is the only car we see in our whole time in the valley! 
Azzaden trekking lodge was built on bedrock at the high point of Ait Aissa village at 1820m. It has 4 comfortable suite rooms with modern toilets and hot showers, a shared living/dining room with wood burner, and my favourite place, the roof terrace with striking views to the high peaks at the head of the valley. Mohammed, our lodge host and chef, welcomes us with warm water and a towel to clean our hands and leather Moroccan slippers so we can leave our boots at the door, as is custom. 
We settle in, revisiting our photos of the day with a tea before a sizzling lamb tagine and an early night (I'm still getting used to the firm Moroccan mattresses!).
Drifting off to sleep the air is almost heavy with silence, only broken by the odd shepherds dog and of course the gentle sing song call to prayer at around 4.00am.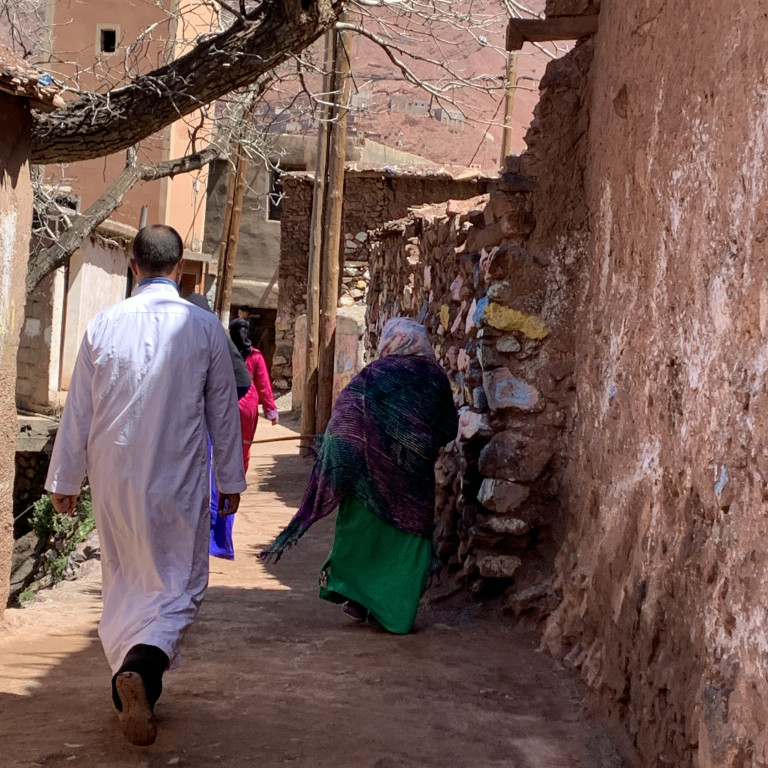 Keen to explore today, there are plenty of options from heading to the high peaks and water fall back at the head of the valley, up past the snow line, to peering around the valley bottom, depending on aspiration. We opt for an extended valley walk taking in a number of the surrounding villages, for more of an insight into life here.
We walk from village to village, treated to a host of sights that represent life here: children tending goats, men diligently digging terraces into the hillside, a village delivery of gas bottles, or villagers striding purposefully towards the mosque for prayer.
One gets the impression that life is both physically hard and enviably simple; no one wears a watch-they tell the time by the sun, stars and calls to prayer, no one has a bank account or even a postal address. 'Shopping' for wheat or barley for example (if not produced in the village), is done by one village representative who is responsible for sharing it out fairly among all the families. Though most of the villages have electricity, only some houses have TV.
There are no cafes, no restaurants, no Coca Cola adverts and we see only one other European couple in the valley. Keith & Jo are also staying at the lodge and have come to Morocco for the hiking and are equally enchanted by the valley.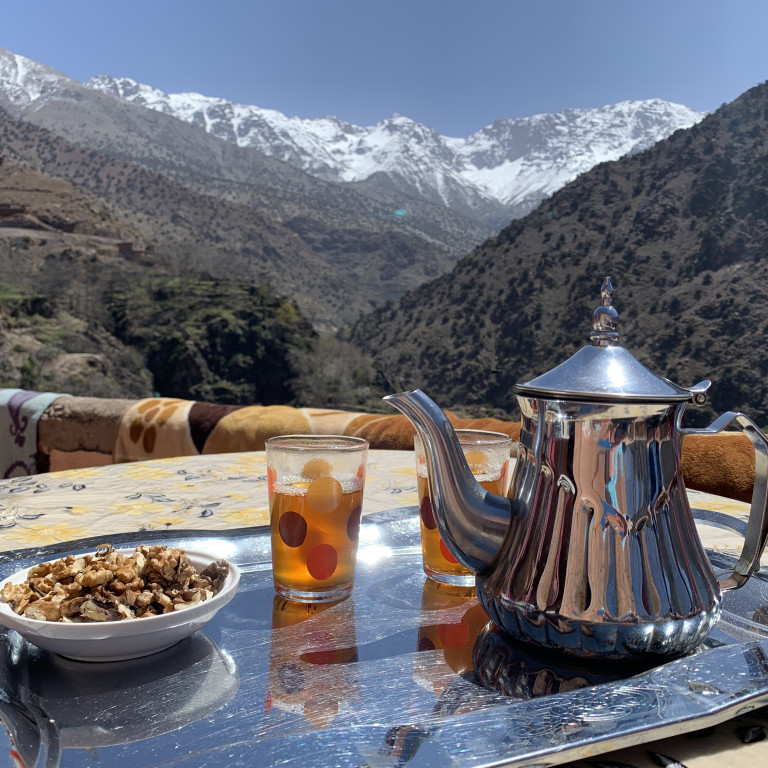 Heading through the lower reaches of Ait Aissa, and just before we return to the lodge, warm and thirsty from walking up the steep valley sides from the river, we are invited for a mint tea by a friend of Abdou's.
The mountain view from their terrace was one of the most beautiful I have ever seen, the tea the most refreshing and the dried walnuts from their tree the creamiest I have tasted.
Abdou chatted happily with the local woman and young girls who shyly served us. The mosque, lying just below us, came to life in an extended call for prayer (it was Friday) that I found emotive and spiritual without understanding a word. It was one of 'those' moments that are pretty unforgettable
We gratefully left some Moroccan dirrhams for the tea though it was clearly only hoped for, rather than expected and to be honest the experience was pretty priceless.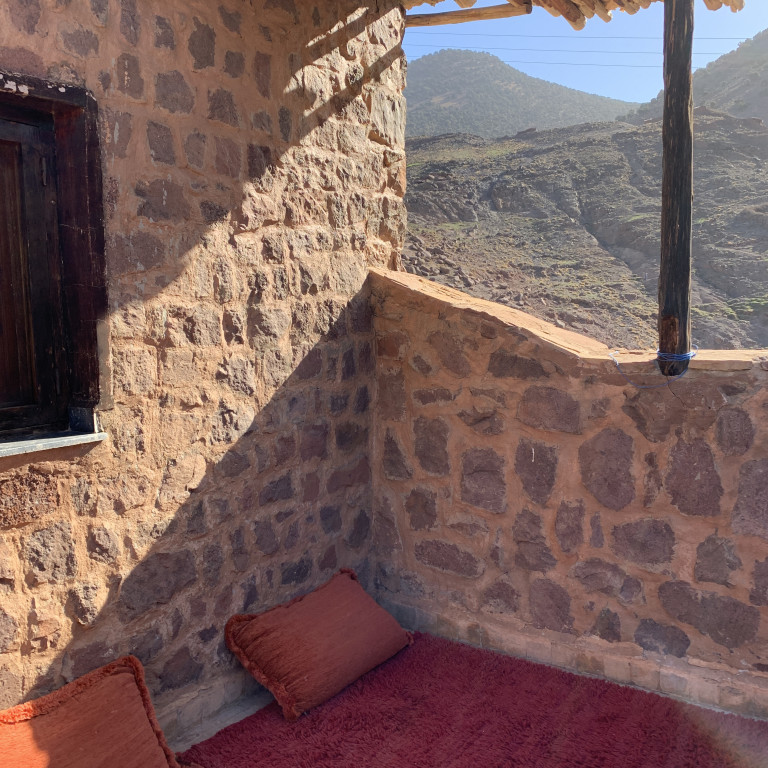 After a late lunch of Mohammed's delicious Berber omelette, the afternoon passed by in a wonderful state of sun drenched relaxation; reclined reading on a selection of colourful Moroccan rugs and cushions laid out on the terrace.
I admit we succumbed to a quiet, cool mug of lager, purchased in Marrakesh and packed in our luggage (so slightly 'mule' shaken!). Our room has a mini fridge and although neither the kasbah nor lodge have a bar or alcohol license, they are happy with guests subtly enjoying a quiet glass of 'bring your own'. 
Not to change a favourite theme of food & drink, dinner was a delectable dish of chicken, slow cooked with ginger, cumin, onion, pale green olives and sultanas. I want the recipe for this one...
Dessert was a Moroccan night sky jam packed with stars.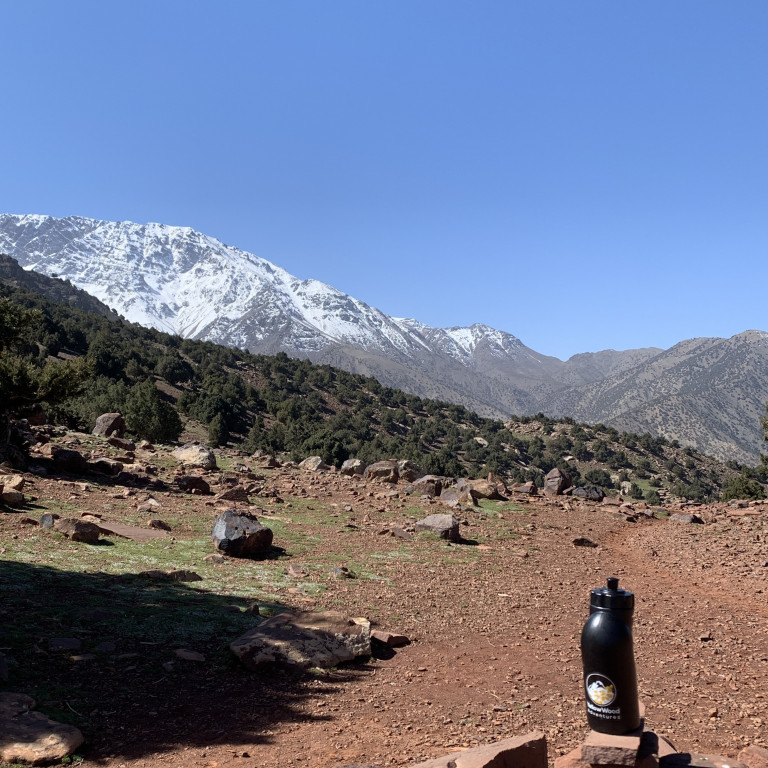 Only the knowledge that we were heading back to the kasbah made it possible to wrench ourselves away from the valley on Saturday morning.
We thanked Mohammed for his kind attention and delicious cooking and followed Abdou past our packed mule, waiting patiently at the gate to the lodge, and up onto the hillside.
Suffice to say it was another beautiful days walking, this time through the Matate valley, where silver was mined by hand until about 20 years ago, and back to the Imlil Valley.
Our magnificent picnic lunch was served aside the river bank, with the rooftops of the kasbah visible in the distance.
The end of our walk meant it was time to say goodbye to Abdul who guided us so well in spite of Ramadan meaning that no food or water could pass his lips during the day. We left him YellowWood Adventures Aquapure water filtration bottle (he had been very complimentary about it during the walk and it was the least we could do!) and a tip that was very well deserved.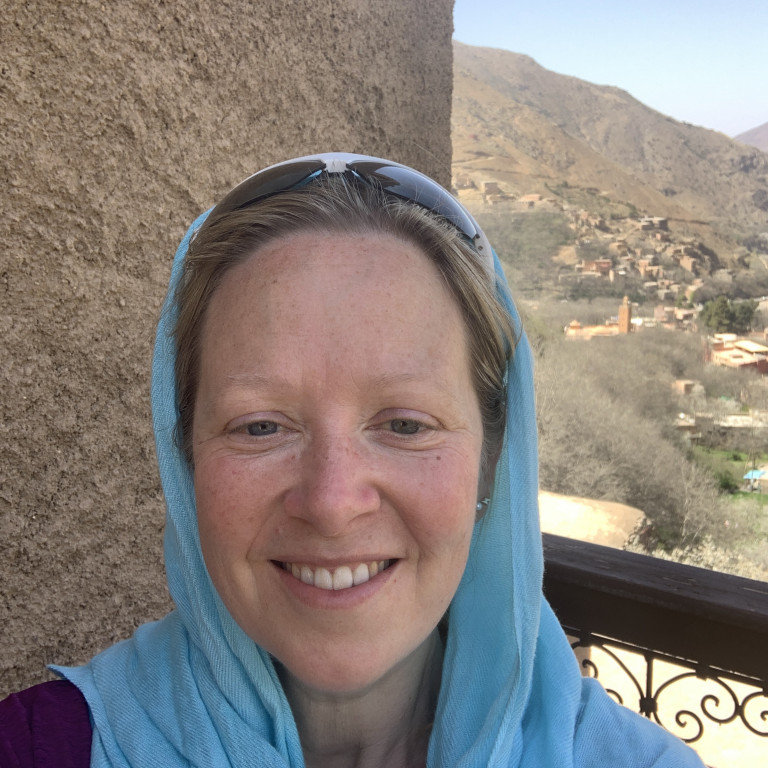 Our final hours at the kasbah du toubkal were no less wonderful than our first; reading on the terrace, a rejuvenating hammam and our last night watching the stars suspended above the Imlil Valley. 
Working for YellowWood Adventures, I know only too well that there are many incredible places to travel and stay in the world, but what Mike and Chris McHugo have created, with their Moroccan business partner, Haji 'Maurice', is exceptional. It is a unique, striking and memorable hotel with an economy that has been built around it that proves the positive forces of tourism and keeps the negative aspects at bay.
As for the Azzaden valley, well, I feel honoured and privileged to have stayed in a place so unspoilt, so beautiful, so very much off the beaten track in spite of being just a 90 minute drive and a day's walk from Marrakesh.
In short, it is so YellowWood. I'd love to return one day.
Inshallah. 
Hiking Moroccos's High Atlas Mountains is a small group holiday running at various times of year, with the option to summit Mt Toubkal or to visit the Azzaden valley.
As a postscript I just wanted to add: before we left, I was feeling frustrated at having to pay £70 to get an express Covid PCR Test at the weekend, in order to be able to access Morocco. Once I was in the valleys, I was so pleased to have had it. Covid hasn't really arrived here and I would have felt terribly responsible if I had played a part in bringing it to this part of the world. It was a pain, but retrospectively I would do it happily again, and would have paid more...